Workshops
Be like Water - Qi Gong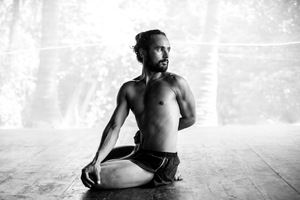 les wordt gegeven door
Prashant Tewatia
Ancient qigong and yoga are essentially two branches of the same tree. Though umbrella terms for a wide range of practices, both yoga and qigong are concerned with unifying the body in order to refine ones 'qi' or 'prana' to achieve higher states of being. While much of modern yoga has become synonymous with 'flexibility', the Chinese systems are thought to have better maintained their roots. The simple movements of qigong allow the student to easily and effectively feel the internal flows of energy in the body.
This form of Qi Gong, well known in China, is one of the four methods officially recognised. It has been inspired by Hua Tuo (a doctor in medicine of the Han dynasty), who has devised each movement from his watching wild animals' behaviours.
In my teaching, my mission is to bridge somatics, circular movement, and a new understandings in anatomy with Yoga Asana and the roots of the Iyengar Yoga method in a playful way to create an optimised and individual way of practicing Asana and other modalities of Movement. I was initiated into Yoga at an early age, watching my grandfather in a headstand every morning, having consistent yoga practice throughout High School and finally became a facilitator upon teaching friends during my studies in Ireland. As it often goes, I had to go to the West to realise my passion for the wisdom of Eastern Practices and Yoga and made my way back to India to learn the science and arts of this ancient practice.
Twelve years on, I am still hungry to share, learn and engage in the bliss of Yoga as well as other somatic forms of Martial Arts, Qi Gung, Primal Movements as well as science-based knowledge to compliment each individual body.
From October to March I am running my own Yoga Studio - Udaan - Yoga & Movement Clinic and rest of the months travelling and teaching around Europe.