Workshops
Strong Foundations & the Art of Alignment in Yoga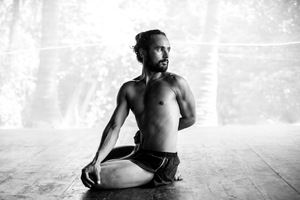 les wordt gegeven door
Prashant Tewatia
Strong Foundations & the Art of Alignment in Yoga
Get a deeper understanding on how to align yourself in every pose for a safe and effective practice. Protect your joints, balance strength and flexibility and learn how to correct habits. This workshop is oriented to anyone who has more than a year of practice, to yoga teachers and experienced practitioners as well.
Through demonstration, discussion and experiential movement, the workshop will empower you with key understandings and information on how to help keep your body safe – whether you are practicing in a class or on your own.


The safety and positioning of three key areas of the body will be examined in relation to yoga postures: the shoulders, the lower back and the knees. Correct alignment of these areas will be explored in relationship to building an awareness of core strength and stability.
When asanas (yoga postures) are practiced with awareness and knowledge of healthy alignment, you will find greater comfort and ease in the body. Proper alignment is essential to avoid the risks of injury and to establish a solid foundation on which a practice can grow.
Once the body feels taken care of and is not risking injury, we are also more available to explore the benefits of subtler practices such as pranayama (yogic breathing) and meditation.
In my teaching, my mission is to bridge somatics, circular movement, and a new understandings in anatomy with Yoga Asana and the roots of the Iyengar Yoga method in a playful way to create an optimised and individual way of practicing Asana and other modalities of Movement. I was initiated into Yoga at an early age, watching my grandfather in a headstand every morning, having consistent yoga practice throughout High School and finally became a facilitator upon teaching friends during my studies in Ireland. As it often goes, I had to go to the West to realise my passion for the wisdom of Eastern Practices and Yoga and made my way back to India to learn the science and arts of this ancient practice.
Twelve years on, I am still hungry to share, learn and engage in the bliss of Yoga as well as other somatic forms of Martial Arts, Qi Gung, Primal Movements as well as science-based knowledge to compliment each individual body.
From October to March I am running my own Yoga Studio - Udaan - Yoga & Movement Clinic and rest of the months travelling and teaching around Europe.