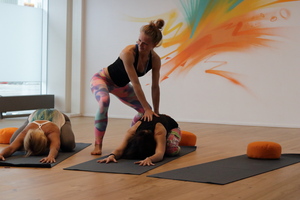 les wordt gegeven door
Nicole Dooper
Relax – connecting – recharge – fascia – live piano

Yin is focussed on relaxing your muscles, creating space in the mind and in the body by breathing. Yin flow is a gentle way of grounding down the earth, surrendering in poses while the breath keeps our body moving and keeping the pose/asana "alive". Without force you massage yourself into a pose where you stay for a longer period of time. You calm the monkey mind, step out of the rush of life and receive a deep relaxation in the body.

Accompanied by live songs on piano. We love music & bring it from the heart.