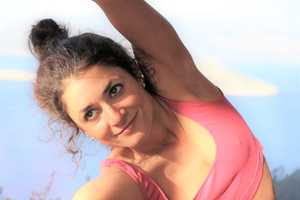 les wordt gegeven door
Kyriaki Potiri
Stillness – meditative – creating space – fascia release – relaxing

Yin yoga works deeply in the body with passive, longer-held poses. A
stress-relief practice suitable for everyone. Yin poses target the
deepest tissues of the body, our connective tissues - ligaments, joints,
bones, and the deep fascia networks of the body - rather than the
muscles. It improves the energy flow and offers wonderful emotional and
mental health benefits. It deeply relaxes the body and the mind in a
therapeutic way, while releasing any tension using conscious breathing
to connect deeper with the earth.
Kyriaki will treat you with her sound healing bowl, feeling uplifted and
enlightened to enjoy the weekend.